Our New Hard Copy Book on Derivatives Trading is out-To God be the Glory
Ladies and Gentlemen the Hard Copy 3rd edition of my co-authored book has been released by the London based publisher, Globe Law and Business. I thank God for the recognition in being one of the many expert co-authors of this great book about Derivatives Trading. The book is aimed at the Global Institutional Investor Market.
Yours Truly,
Okechukwu Paul Oranika
Practical Derivatives
A Transactional Approach, Third Edition
---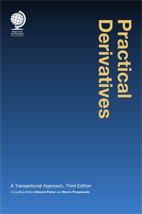 Consulting editor(s): Edmund Parker and Marcin Perzanowski
Publication date: 2017
Format: Hardback
Length: 593 pages
Price: £175.00
ISBN: 9781911078173 
---
Contributing firm
Consulting Editor(s)
Mayer BrownMayer Brown
Edmund ParkerMarcin Perzanowski
Contributors
University of MelbourneSenior legal counselMayer BrownFieldfisher LLPMayer BrownAlixPartners LLP

AlixPartners LLP

Africa Business World

KYOS Energy Consulting

KYOS Energy Consulting

Mayer Brown

Mayer Brown

National Bank of Abu Dhabi PJSC

Addleshaw Goddard LLP

Paul AliRuth FrederickKunel TannaGuy UsherPatrick SchollJohn D Finnerty

Rachael W Park

Paul Oranika

Christopher Clancy

Cyriel de Jong

Natalie Ashford

Vincent Sum

David Johnson

Emmett Peters
You can get a copy from the Publisher's website through this link: http://globelawandbusiness.com/books/practical-derivatives-a-transactional-approach-third-edition
Comments
What's your opinion?