Igbo Language is on the way Back- Dont Miss this Incredible story! Photos!
UNESCO: Igbo Language Will be Extinct by 2025–Mbanu ! Igbo si Mba!
Many of us already heard the bad news, a prediction by United Nations Agency, that Igbo language would be extinct by 2025. What are we Igbos going to do about it? Are we going to fold our hands and watch this prediction come through? You and I should be guilty of not doing what we should do to preserve this beautiful Igbo language we inherited from our fore fathers and mothers. We are banding together to initiate measures and strategies to stop our language from becoming another Dinosaur!
The abstract of a new Article by Ani Kelechi Johnmary stated:
The world is increasingly recording high cases of endangered languages. Endangered language is a language that is at risk of falling out of use as its speakers die out or shift to speaking another language. Igbo language is falling out of the communication choice of many Igbo people. The paper shows how the gradually society exhibits social violence against their language at home, school, church, as by the government and through their dialect as well as other multidimensional ways. It well calls for the factoring and promotion of Igbo language based NGOs, public service broadcasting and transformative government policy in other to attain sustainable Igbo language transformation.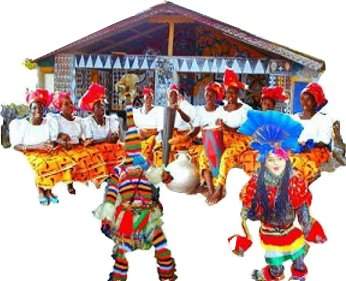 Yes the author of this new article stated that we Igbos are exhibiting social violence against our own language. How many times has someone spoken Igbo to you and you responded in English? That is an example of social violence against Igbo language. We as Igbos have come together to find solutions to this serious problem. ICOTTH-USA and Africa Business World are sponsoring a World-wide Igbo Cultural Festival August 5-7th. As part of this International Igbo Cultural Festival, there would be Igbo language Workshops and Speakers on ways to reverse the decline of usage of Igbo Language. Papers will be presented discussing ways and strategies to address this serious problem identified by UNESCO. Mark your calendar. If the plight of our Igbo language touches you, plan to be a part of this festival. There will be traditional dances, masquerades, Hollywood and Nollywood stars, ICOTT-USA Iri-Ji Cultural Event, Gala Night and Banquet and more!
Igbo is coming back! New Tweets in Igbo
Hollywood Star Kerry Washington with Nnamdi Asomugha Tweets in Igbo Language
She posted "Afo gbara aka laa oo" which means 'May the year end without taking anything precious from us' Hope my translation is correct?
Igbo Language Preservation and Cultural Festival 2016
Venue: Coppin State University, Baltimore Maryland
Date: August 5-7th, 2016
Written by Okecukwu P. Oranika
Sponsors Needed Contact:
Chief Dr. Laur Nnamdi Onyekwere, Chair Festival Planning Committee Email: [email protected],   Phone: (410-241-1360)
Prof. Okechukwu P. Oranika Event Coordinator Email: [email protected] Phone: (770-401-5008)
If you like this, please share on social media to reach millions worldwide!
 Igbo Language School opens in Accra Ghana
N'olu Asusu IGBO
Ndi be anyi ndeewo ! Udo dikwara unu nile. Ozi nkea bu maka ihe gbasara omalich asusa anyi bu Igbo. Unu nile nuru na ndi UNESCO kwuru na asusu Igbo ga ala mmo na afo 2025. Chukwu Okike furu Ndi Igbo na anya agaghi ekwe ka nnukwu ajo ihe nke a mee. Ndi Nna anyi na Nne anyi ochie agaghi agbaghara anyi nile oburu na anyi hapu asusu Igbo ka onaa mmo.
(Omalicha nwa Igbo Zane na alu olu na CNN na asukwa asusu Igbo
CNN's British News Anchor, Zain Asher dazzles Nigerians in Igbo Language
Anyi nile bu Nwafo Igbo na agbakoba na obodo bu Baltimore na Maryland na onwa August na afo 2016 ka anyi nile bido nzuko na emume nke anyi na akwado maka etu anyi ga esi kwado asusu anyi bu Igbo. Ilu Igbo kwuru na anyukoo nwa amiri onu ogbaa ufufu. Biko were taa kwado be maka nnukwu emume nkea na abia na onwa August.
Anyi choro ndi ga enyere anyi aka na  ikwadoo omenala nke a ofuma. Biko oburu na inwere ka oha gi biko nyere anyi aka na nkwado omenala nkea. Ilu Ndi Igbo kwuru na mmiri di ne eju diri nwa nkita.
Ka Chukwu huru Igbo na anya gozie unu nile nke oma. Cheta kwa asuara gi Igbo, zaa n'olu Igbo!
Aha onye dere ozi nke a  bu:
Mazi Okechukwu Oranika

Omalicha ada Ndigbo o na asukwa asusu Igbo ofuma
(Incredible young Igbo Participant at the 2015 igbo language Essay)
Nee etu iga esi zi anyi ozi na email ma obukwa na phone
Mazi Laur Nnamdi Onyekwere: [email protected],   Phone: (410-241-1360)
Mazi Okechukwu P. Oranika: [email protected] Phone: (770-401-5008)
Africa Business World: We make it short and Concise and to the point to save you time. ABW will bring more to you as more information becomes available. Africa Business World is one of the major sources of latest World News, Africa News, and Nigerian News, we also offer Small Business Directory for all your business listings. Our website is accessible in 90 languages including Igbo, Hausa, and Yoruba
Email: [email protected] to advertise on our website
If you like our stories why not Share Them!  At Africa Business World we are working hard to get you informed!
Comments
What's your opinion?
Advertise on Africa Business World
Africa Business World reaches global consumers in all parts of the world. You can reach your desired target audience and consumers by advertising your products and services through our highly visited website. Our viewers come from different economic backgrounds from many media channels including traditional and social media. We invite you to place your ads through our inexpensive and very effective advertising program.
Email us at [email protected]
to get your ad in front of our busiest pages for a small cost
Don't miss the stories
followAfrica Business World
and let's be smart!
Leave a Reply
You must be logged in to post a comment.